It's not just about getting clients once and then scrambling for them 72 hours before rent is due, it's about setting up a system that gets you clients consistently booked in advance.
If you don't set up a proven system then the vicious cycle begins - you undercut your prices, you overpromise, and you take whatever clients you can get.
Your struggle isn't happening to you because you're not smart enough, or qualified enough, or new to business.
But we can fix it!
I'll take you through what a sustainable, easy to run, viable services-based business looks like in this video.
Here are the three phases of getting clients.
Phase 1: Key offers
The goal with your packages is to create 3 strategic offers that sell themselves and each other.
Once you start to engineer effective packages you move away from hourly rates and instead focus on value-based pricing.
Clients don't want to buy your time they want to buy a result or outcome. You can do that even with life coaching!
Each package should be priced according to the value and results they provide. The entry-level package should be most affordable while the top level package should be highest priced.
Phase 2: Launching
Most service-providers put their offers online and expect people to buy them. Nope.
The #1 thing that service-based businesses need to be doing?
Launching their packages online.
What is launching? Launching consists of emails, videos, cartoons, social media, and sales pages to help people understand why they should sign up and work with you.
Launching educates, excites, and inspires potential clients to work with you.
Why do you need to launch?
Launching tests your packages to see if they're sellable, whereas if you launch them and nobody buys then you know for sure you've got a dud.
Phase 3: Automation
Right now you're losing potential clients because they have nowhere to go once they see you're booked out, and they forget about you.
You need to automate getting them in, keeping them excited, and signing up to work with you.
This is how you go from being without clients now to booked out months in advance.
3 key takeaways:
You need to have a waitlist right now.

You need to call it an experience vs a waitlist so people actually wanna sign up. (Champagne room for JJ, Cocktail Lounge for us, The Green Room if you're targeting entertainer)

You need to have a constant stream of potential future clients coming in, signing up to wait to work with you, then you need to educate them and keep them warm for the next six months.
YAY! You did it. You started to fix your broken marketing system. This part takes 4 weeks in Be Booked Out but once students put this into place they get months of clients into their business.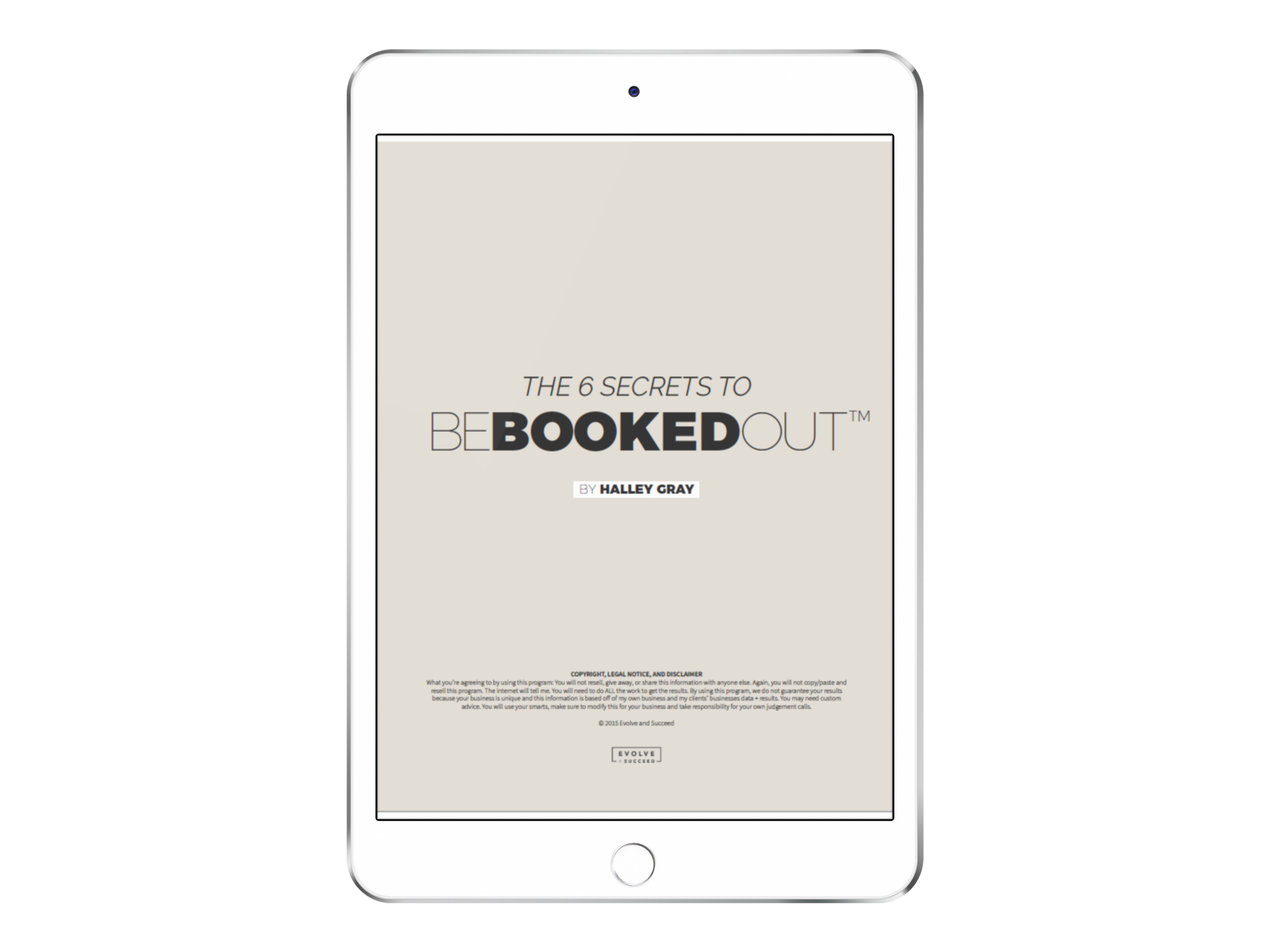 The 6 Secrets To Be Booked Out